I can't believe the coming week marks the end of classes for the winter 2014 semester. I won't lie, I'm actually pretty excited to see it come to an end. Don't get me wrong, I've had a blast this semester, however, it has been far busier than I was initially expecting and I know that I'm definitely ready for a break.
The last two weeks have been particularly busy, but they've also been absolutely fantastic for a number of reasons.
On the 17th I was invited to speak to students in the Masters of Public Health program at the University of Guelph. My talk was on social media, and how – in my opinion – it could and probably should be used as a tool for public health. It was great to speak to a new class of students, and especially fun to talk about Twitter, Facebook, and other social media in an academic setting.
Later in the week (Saturday, March 22nd) I got to play judge at CollabNow, an event put on by the Entrepreneurship Society of the University of Guelph. The event brought together business, computer science, and engineering students from both the University of Guelph and the University of Waterloo. Student teams were tasked with developing solutions to deal with the expected population growth in the City of Guelph over the next 17 years. Although they were given only about an hour or so to develop a solution, the students came up with some great ideas that were supported with real data.
The very next day (Sunday, March 23rd) I joined the Farm To Fork team as we ventured to Kitchener to celebrate the launch of the Farmer's Kitchen Table website. I was invited to speak at the event – specifically on Farm To Fork and the importance of sufficient sustainable healthy food on every table, especially in the case of tables where food is often absent. While Farm To Fork has garnered attention outside the borders of Guelph (thank you social media and word of mouth), it's always great to bring the message personally. Thanks again to Anne Marie, founder of the Farmer's Kitchen Table, for letting us speak at the event.
Tuesday the 25th was one of my busier days. The day began with me helping to host one of Google's engineers who was invited to the school to talk to the students. Immediately following that I got to watch as several student groups presented the mobile apps they've been developing – and holy hell some of them were super cool. After their presentations I had to jet to the River Run Centre to join the rest of the Farm To Fork team for the Big Show. For those not in the know, the Big Show was a showcase for the 52 ideas submitted to the Elevator Project to make Guelph an even better place to live. At the event Farm To Fork was announced as one of the top 15 ideas, and we were also awarded over $10000 in funding. While we knew before the event that we were in the top 15, we were floored when the funding announcement was made. Talk about an amazing way to end a Tuesday!
And the Farm To Fork team got together again this weekend (because apparently we can't get enough of each other). Yesterday we were in Centre Wellington for the Food For Thought event. There, Danny gave a phenomenal talk about what inspires him, and he also introduced the audience to the Farm To Fork project. To say they were excited would be an understatement. And you can only imagine how awesome that left us feeling – especially considering the high we were still on from Tuesday night's big announcements.
Today the team gathered with some of my other students to spend the day coding our butts off. It was a long day, but a lot of fun, and I think in the end we managed to accomplish a lot. Not a bad way to spend a Sunday.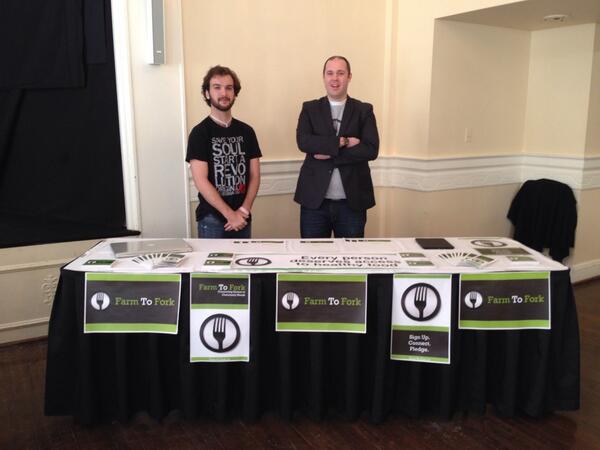 Despite the crazy schedule, the last two weeks have been fantastic. And as tired as I am, the feedback and support that Farm To Fork has been shown has reinvigorated me; it's reminded me of how far we've come, where we are, and what still needs to be done. And I know we can do it.
Fortunately, I've got an amazing group of people working with me, and an equally amazing group of friends supporting me. Thanks to everyone for keeping me (relatively) sane. I promise I will get some sleep – soon.